GOING DOWN CANYONS
WE SHOW YOU ASTURIAN NATURE AND HOW TO GO DOWN ITS CANYONS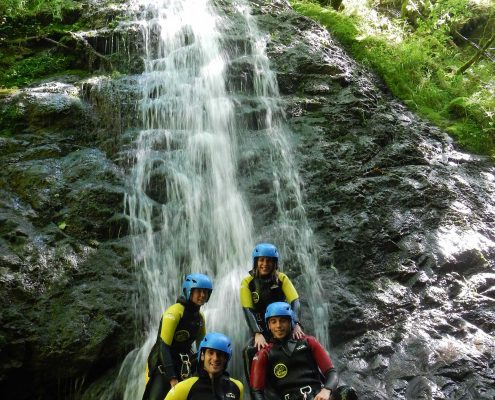 Canyoning consist in going down mountain rivers by abseiling, going down natural toboggans, walking and jumping to the crystalline water natural pools. It can be done by almost anybody as it requires minimum physical qualities.
There are many kinds of canyons in Asturias based in the difficulty levels: from small family cliffs, where kids from 8 years on can learn how to go down, medium cliffs where you need to know the basic techniques, others of high difficulty, and the really hard ones of maximum difficulty.
When we organize this kind of event we usually start at 10 am and in some occasions at 3.30 pm.
They will be small groups and will be accompanied by experienced authorized instructors in the field of canyoning. They also know the areas very well and the techniques that should be used.
Apart from our activities going down the Sella river, this is one of the most demanded activities. You get deep into the nature, getting to know beautiful landscapes at the upper part of the rivers. Native forests, wild rivers born in crystalline and pure water, waterfalls, toboggans and jumps. Canyoning in Asturias brings you opportunity to discover unique places that wouldn´t be possible to get there without our instructors and equipment.
Pickup and coming back transportation
Civil liability and accidents insurance
Pickup and coming back transportation
OTHER SERVICES IN K2 ADVENTURE'S OPERATIONS CENTER
6000 square meters of green space

Cafeteria-Bar and cider bar
WiFi area in the operations center
MORE INFO ABOUT CANYONING
* Swim wear and towel.

* Footwear with a good sole and that adjusts to the foot (sport or treking shoes).
Once the reservation is made we will call you to confirm day and hour
Choose the number of people that will come and reserve this activity picking the day you prefer in the calendar
PRICES
V.A.T. and 10% discount when online reservating are included
– Groups from 1 to 10 people : 40 € – 36 € per person
 – Groups of more than 10 people : 35 € – 31,50 € per person