GOING DOWN CANYONS
WE SHOW YOU ASTURIAN NATURE AND HOW TO GO DOWN ITS CANYONS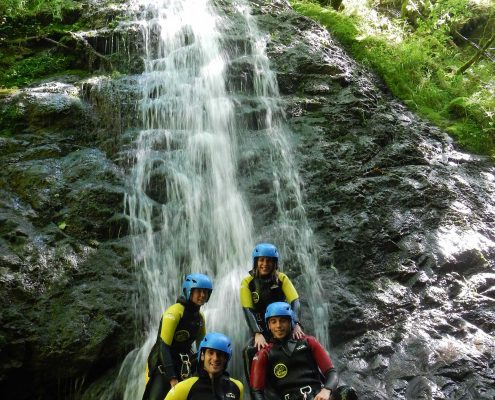 Canyoning consist in going down mountain rivers by abseiling, going down natural toboggans, walking and jumping to the crystalline water natural pools. It can be done by almost anybody as it requires minimum physical qualities.
There are many kinds of canyons in Asturias based in the difficulty levels: from small family cliffs, where kids from 8 years on can learn how to go down, medium cliffs where you need to know the basic techniques, others of high difficulty, and the really hard ones of maximum difficulty.
When we organize this kind of event we usually start at 10 am and in some occasions at 3.30 pm.
They will be small groups and will be accompanied by experienced authorized instructors in the field of canyoning. They also know the areas very well and the techniques that should be used.
Apart from our activities going down the Sella river, this is one of the most demanded activities. You get deep into the nature, getting to know beautiful landscapes at the upper part of the rivers. Native forests, wild rivers born in crystalline and pure water, waterfalls, toboggans and jumps. Canyoning in Asturias brings you opportunity to discover unique places that wouldn´t be possible to get there without our instructors and equipment.
Pickup and coming back transportation
Civil liability and accidents insurance
Pickup and coming back transportation
OTHER SERVICES IN K2 ADVENTURE'S OPERATIONS CENTER
6000 square meters of green space

Cafeteria-Bar and cider bar
WiFi area in the operations center
MORE INFO ABOUT CANYONING
* Swim wear and towel.

* Footwear with a good sole and that adjusts to the foot (sport or treking shoes).
Once the reservation is made we will call you to confirm day and hour
Choose the number of people that will come and reserve this activity picking the day you prefer in the calendar
PRICES
V.A.T. and 10% discount when online reservating are included
– Groups from 1 to 10 people : 40 € – 36 € per person
 – Groups of more than 10 people : 35 € – 31,50 € per person
[English] DESCENSO DE CAÑONES O BARRANQUISMO
[English]
DISFRUTE Y EMOCIÓN EN LUGARES ÚNICOS!!!
[English]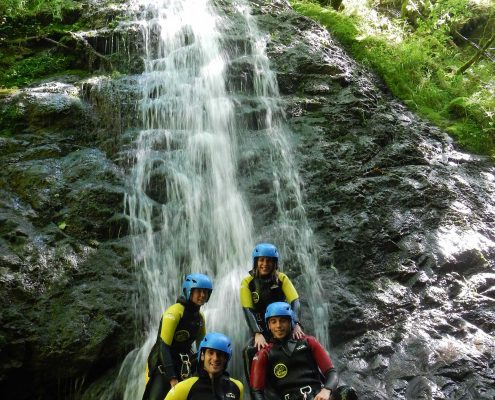 El Descenso de Cañones o Barranquismo consiste en descender ríos de montaña haciendo rappel, bajando por toboganes naturales, caminando y saltando a sus pozas. Es una actividad apta para casi todo el mundo con unas mínimas condiciones físicas. Los grupos irán acompañados por monitores experimentados y conocedores de nuestros Barrancos.
En el Oriente de Asturias contamos con gran variedad de Barrancos de diferente dificultad:
 Barrancos familiares como El Rubó, en los que padres y niños a partir de 8 años pueden tener un primer contacto jugando en pozas, bajando divertidos toboganes y saltando en pozas de aguas cristalinas.
 Barrancos de iniciación como El Vallegón, muy completo con cascadas para rapelar, toboganes naturales y saltos a pozas. El entorno es espectacular, un Barranco en mutad de un bosque autóctono Asturiano.
  Barrancos de mas dificultad como El Viboli, para grupos que hayan tenido algún contacto con el Barranquismo o La Escalada ya que los rápeles son exigentes y los saltos de mayor dificultad.
Espeleobarranquismo en El Río Purón, actividad que combina el Barranquismo con la Espeleología dando una espectacularidad extra a la actividad.
El Descenso de Barrancos nos proporciona un contacto total con la naturaleza, llegando a paisajes de gran belleza en las partes altas de los ríos. Nos introducimos en la más profunda naturaleza de Asturias, de sus bosques autóctonos y sus ríos salvajes, cuyos nacimientos les otorgan sus cristalinas y puras aguas, con cascadas, toboganes y saltos. El descenso de Barrancos en Asturias nos da la oportunidad de descubrir lugares únicos que sin nuestros monitores y equipaciones sería imposible acceder a ellos
Las salidas más habituales cuando organizamos una actividad de este tipo, son a las 10 de la mañana y en ocasiones a las 15.30 horas. Siempre es conveniente reservar la actividad con antelación.
[English] SERVICIOS INCLUIDOS
[English]
EN ACTIVIDAD DE ESPELEOLOGÍA
[English]
Monitores acreditados

[English]
Transporte de ida y vuelta
[English]
Servicio de vestuario y duchas

[English]
Seguro responsabilidad civil y accidentes
[English]
Transporte a destino y regreso
[English]
Material necesario
[English]
OTROS SERVICIOS EN EL CENTRO DE OPERACIONES K2 AVENTURA
[English]
Superficie 6.000 mts. de espacio verde

[English]
Cafetería Bar y Sidrería
[English]
Área WiFi en zona del Centro

[English]
Puente Tibetano
[English] MÁS INFO SOBRE DESCENSOS DE CAÑONES
[English] TE ACONSEJAMOS TRAER:

[English]
* Ropa de baño y toalla.

* Calzado con buena suela y que sujete bien el pie (unas deportivas o calzado de treking).
[English]
Una vez reservado te llamamos para confirmar día y hora de salida
[English] <strong style="font-size: 32px; color: #29059f;">COMPARTE Y VENTE A K2</strong>
[English] RESERVAR ONLINE
[English]
DESCENSO DE CAÑONES EN ASTURIAS
[English] ADEMÁS ESPECIAL GRUPOS
[English]
SI TIENES UN GRUPO ESPECIAL Y QUIERES ALGO ESPECIAL
[English] BOLETIN DE NOTICIAS
[English]
TODA LA ACTUALIDAD EN TU EMAIL
[English]
[contact-form-7 id="1077″ title="Formulario de contacto 1″]