GOING DOWN WHEN THE REGULATIONS OF RIVER BASIN AUTHORITY DON'T LET US START FROM LAS ROZAS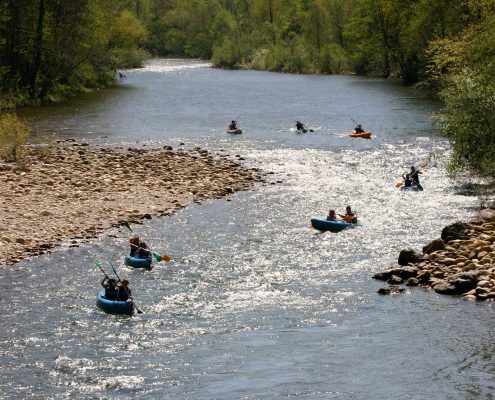 This itinerary we only do it when the regulations of river basin authority don´t let us start from Las Rozas. This itinerary is done by the rest of companies, too crowded in summer. They only don´t let us some weekdays of June and July, and we are trying to make this regulation change and allow us to start always from Las Rozas.
We offer you another itinerary of the 4 possible routes of the Sella river. For the ones who want to challenge themselves.
We start from Arriondas, where the K2 canoes will go until the village of Llovio, near Ribadesella. It will approximately take, and depending on you, 5 hours more or less.
As it is a route which takes longer we remind you that the starting hour is from 11 am to 2 pm as the river closes at 6 pm. This way if you start at 2 pm you will have to arrive to Llovio in 4 hours.
K2 recomends taking the 19km or 12km descent, because doing so you will start from our operation center in Las Rozas and will do the best first 4km, avoiding the really crowded start at Arriondas. You can only start from Las Rozas with our canoes.
Canoe, paddle and life vest
Wetsuit depending on the weather
Civil liability and accidents insurance

Pickup and coming back transportation
Waterproof drum with pic-nic
If for any reason you would like to stop before finishing the itinerary, you have the possibility to do it in any of the points that K2 has for that porpuse, and you can be informed previously asking in the information desk of our center.
OTHER SERVICES IN K2 ADVENTURE'S OPERATIONS CENTER
WiFi area in the operations center zone
Mini-Golf (free for kids)
Cafeteria-Bar and cider bar

6000 square meters of green space
MORE INFO AND PLAN OF THE 15 KM GOING DOWN
AN ITINERARY TO ENJOY A DAY IN THE RIVER
This itinerary is made for the ones strong enough and that want to enjoy a full day in the river. The 15 km itineray is not an usual itinerary.
We recomend to choose the longest going down of 19 km, or the 12 km one, because when starting from our operations center in Las Rozas you will go down the best initial 4 km, avoiding the crowded and chaotic start in Arriondas, because only our canoes can start from Las Rozas.
OUTINGS FROM 11:00AM TO 14:00PM

* Clothes and footwear appropiate for the river.

* Sunscreen.

* Glasses-holder.

* Clothes to change and towel.
IMAGES OF THE 15 KM ITINERARY
FULL GOING DOWN, WITH PEACEFUL WATER AND RAPIDS
ONLINE RESERVATION
STAR GOING DOWN. 15 KM ITINERARY OF THE SELLA RIVER
Choose the number of people that will come and reserve this activity picking the day you prefer in the calendar
PRICES
V.A.T. and 10% discount when online reservating are included
 – LESS THAN 12 YEARS OLD : 15 € – 13,50 € per kid
– GROUPS FROM 1 TO 10 ADULTS : 25 € – 22,50 € per adult
 – GROUPS FROM 11 TO 20 ADULTS : 22 € – 19,80 € per adult
– GROUPS FROM 21 TO 40 ADULTS : 20 € – 18,00 € per adult
 – GROUPS OF MORE THAN 40 ADULTS : 18 € – 16,20 € per adult
The regulations of the Asturian Hydrographic Confederation, dictates that some of the working days in June and July we won´t be able to start from our center in Las Rozas. This 2 days we will be forced to start from Arriondas.
[English] DESCENSO SOLO CUANDO LA NORMATIVA NO NOS PERMITA NUESTRA SALIDA EN LAS ROZAS
Este tramo solo lo realizamos cuando la normativa de la Confederación Hidrográfica nos prohibe salir desde Las Rozas. Es el tramo habitual que hacen el resto de empresas, muy masificado en verano. Son solo ciertos días laborables de Junio y Julio, y estamos intentando que esta normativa cambie y no nos pongan restricciones para salir desde Las Rozas.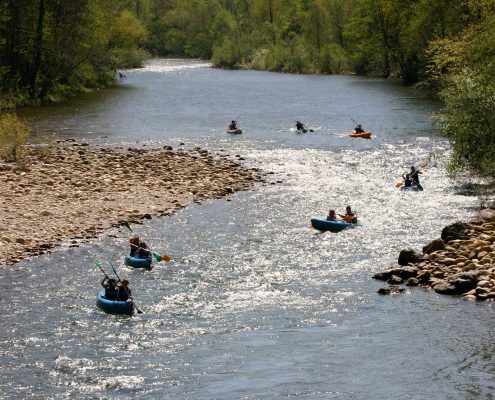 Te ofrecemos otra de los 4 posibles tramos del Sella, un tramo para aquellos que quieren probarse.
Tomaremos la salida en Arriondas, desde donde las canoas de K2 partirán hasta el pueblo de Llovio, cerca ya de Ribadesella, con una duración aproximada, y siempre dependiendo de vosotros, es de unas 5 horas.
Al ser un recorrido de más tiempo recordamos que las salidas solo están permitidas de 11:00am a 14:00pm debido a que la hora del río es hasta las 18:00pm.
De esta forma si la salida se produce a las 14:00pm el recorrido hasta Llovio deberá hacerse en 4 horas.
K2 os recomienda seleccionar el descenso de 19 Km. o bien el de 12 Km, ya que saliendo desde nuestro centro de operaciones en Las Rozas, realizarás los mejores 4 Km iniciales, evitando las multitudinarias y caóticas salidas en Arriondas, ya que desde Las Rozas solo nuestras canoas realizan el descenso.
[English] SERVICIOS INCLUIDOS
[English]
EN EL DESCENSO DE 15 KMTS.
[English]
Canoa, pala y chaleco salva vidas

[English]
Servicios de duchas y vestuarios
[English]
Traje de neopreno según clima

[English]
Embarcadero propio
[English]
Seguro responsabilidad civil

[English]
Recogida y transporte de vuelta
[English]
Bidón estanco con pic-nic

[English]
Opción canoas 1, 2 y 3 plazas
[English]
Si por el motivo que fuera desearas parar antes de finalizar el recorrido, tienes la posibilidad de hacerlo en cualquiera de los puntos en los que K2 estará para tal efecto y de los que se os informará preguntando previamente en el punto de información de nuestro centro.
[English]
OTROS SERVICIOS EN EL CENTRO DE OPERACIONES K2 AVENTURA
[English]
Área WiFi en zona del Centro

[English]
Puente Tibetano
[English]
Mini-Golf (gratuito niños)
[English]
Parking propio gratuito
[English]
Cafetería – Bar y Sidrería

[English]
Superficie 6.000 mts. de espacio verde
[English] MÁS INFO Y PLANO DEL DESCENSO 15 KM.
[English]
UN RECORRIDO PARA DISFRUTAR DEL DÍA EN EL RÍO
Este tramo está indicado para aquellos que se sienten con fuerzas y quieren disfrutar de una jornada completa en el río. El tramo de los 15 Km no es un recorrido habitual.
Recomendamos seleccionar el descenso más largo, el de 19 Km., o bien decantarse por el de 12 Km, ya que saliendo desde nuestro centro de operaciones en Las Rozas realizarás los mejores 4 Km iniciales, evitando las multitudinarias y caóticas salidas en Arriondas, ya que desde Las Rozas solo nuestras canoas realizan el descenso.
[English] SALIDAS 11:00AM A 14:00PM

[English] IMPRESCINDIBLE TRAER

[English]
* Ropa y calzado apropiado para el río.

* Protección solar.

* Sujetagafas.

* Ropa de recambio y toalla.
[English] EL TRAMO DE 15 KMTS. EN IMÁGENES
[English]
EL DESCENSO CON TODO, AGUAS TRANQUILAS Y AGUAS RÁPIDAS
[English] Y TAMBIÉN ESPECIAL GRUPOS
[English]
DISFRUTA CON TUS AMIGOS O COMPAÑEROS
[English] BOLETIN DE NOTICIAS
[English]
TODA LA ACTUALIDAD EN TU EMAIL
[English]
[contact-form-7 id="1077″ title="Formulario de contacto 1″]