IDEAL SECTION FOR
FAMILIES WITH KIDS
THE BEST 4 KMTS OF THE SELLA RIVER, EXCLUSIVELY WITH K2 ADVENTURE
EXCLUSIVE MINI GOING DOWN FOR 4 KMTS.
OUR FAMILIES SPECIAL. TO HAVE A PERFECT DAY.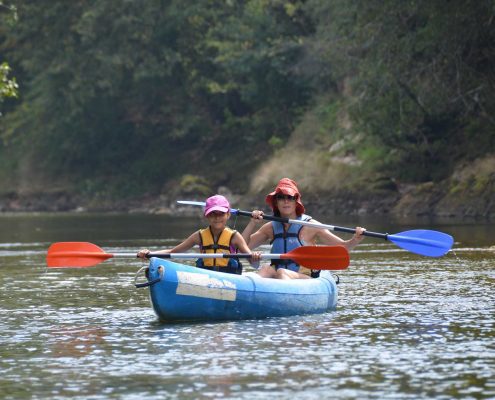 This takes place in the best 4 km of the Sella river for the ones with not much time and also ideal for families with kids. This part of the river is very peaceful and is not crowded as it is exclusive for K2 Adventure. 99% of our clients say that it is the best part of the river for going down, especially if you bring kids.
Also this section invites the kids who want to use our mini-golf which is free. It is placed in our operation center with a total area of 600 square meters full of fields, trees and of course part of the Sella river.
K2 Aventura is located between Arriondas and Cangas de Onís. We can say that we are at the heart of Asturias and in one of the prettiest villages of our province, Las Rozas. The Sella river passes by the back of our facilities, where the canoes are placed.
The descent goes fromLas Rozas to Arriondas, 4 km long in which you can enjoy a really fun itinerary and a beautiful landscape. Perfect for families with kids or the ones who doesn´t have much time. It usually takes from 1 to 2 hours but if you want you can do it slower because the aim is to enjoy the day. According to our clients, the best part of the Sella river.
INCLUDED SERVICES
IN THE MINI DESCENT OF 4 KMTS. KIDS SPECIAL
Canoe, paddle and life vest
Waterproof drum with pic-nic
Pick-up and coming back transportation

Civil liability and accidents insurance
Wetsuit depending on the weather
Choose between 1, 2 or 3 seats canoes
OTHER SERVICES IN K2 ADVENTURE'S OPERATION CENTER
6000 square meters of green space

Cafeteria-Bar and cider bar
WiFi area in the operations center
MORE INFO AND PLAN OF THE BEST 4 KM.
AN IDEAL ITINERARY FOR FAMILIES WITH KIDS.
In K2 Adventure we offer you the best 4 km of the Sella river. A fun and peaceful itinerary which you only can enjoy it with us.
OUTINGS FROM 11:00AM TO 16:00PM

INDISPENSABLE TO BRING WITH

* Clothes-footwear suitable for the river.

* Sunscreen.

* Glasses-holder.

* Clothes to change yourself and towel.
IMAGES OF THE 4 KM SECTION
GREAT BEAUTY, CALM WATER AND VERY PEACEFUL AS ONLY K2 CANOES CAN USE IT
ONLINE RESERVATION
GOING DOWN THE BEST 4 KMTS OF THE SELLA RIVER, FAMILIES SPECIAL
Choose the number of people that will come and reserve this activity picking the day you prefer in the calendar
PRICES
V.A.T. and promotion of 10% discount reserving online, included
 – LESS THAN 12 YEARS OLD : 15 € – 13,50 € per kid
– GROUPS FROM 1 TO 10 ADULTS : 20 € – 18 € per adult
 – FROM 11 ADULTS ON : 18 € – 16,20 € per adult
The regulations of the Asturian Hydrographic Confederation, dictates that some of the working days in June and July we won´t be able to start from our center in Las Rozas. This 2 days we will be forced to start from Arriondas.