WE SHOW YOU THE TRUE
HEART OF ASTURIAS
OUTSIDE OF THE TURISTIC ROUTE, NEAR PICOS DE EUROPA
GET TO KNOW THE TRUE INSIDE OF ASTURIAS
WITH PROFESSIONAL AUTHORIZED INSTRUCTORS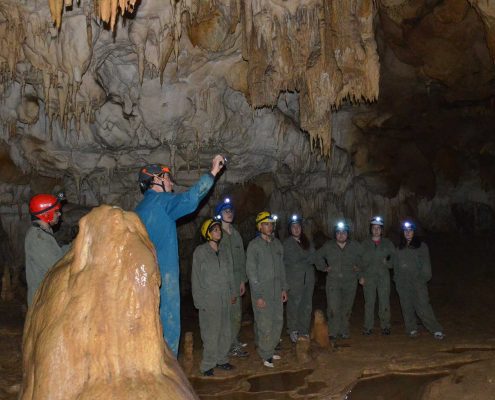 If you want to get to know the true inside of Asturias there is nothing better than doing it with our caving visits to some of the many caves that Asturias offers. From the steep mountains that look to the Cantábrico sea to the highest ones that form Los Picos de Europa.
We show you the naked heart of Asturias with skilled instructors highly qualified to teach you this exciting activity that is the caving. The orient of Asturias has infinity of caves with all types of shapes formed through the years, from the well-known stalactites, the stalagmites, to the tracks…
Asturias beautiful land on the outside, the land of water with its rivers, green with its fields and forests, brown with its mountains and beaches… is also jet black in its hidden inside.
INCLUDED SERVICES
IN THE ACTIVITY OF CAVING
OTHER SERVICES IN K2 ADVENTURE'S OPERATIONS CENTER
ONLINE RESERVATION
CAVING IN ASTURIAS. GROUP OF 4 PEOPLE MINIMUM
Choose the number of people that will come and reserve this activity picking the day you prefer in the calendar
PRICES
V.A.T. and 10% discount when online reservating are included
– Groups from 4 to 10 people : 25 € – 22,50 € per person
 – From 11 people on : 22 € – 19,80 € per person
[dopbsp id="13″ lang="en"]